Welcome to Channeling Spirit.
My name is Olgaa Fienco, I was born in Melbourne/Australia from Italian parents.
With a keen interest in spiritual and metaphysical pursuits, a desire for more insight and wanting to learn more about the unknown, I began to question life and wondered what my true purpose on Earth was.
As a child growing up my main interest was Astrology. I was always fascinated with understanding people and Astrology provided a fabulous tool for understanding the difficulties we face in life. Through continued studies of Astrology I began private consultations.
My new found curiosity compelled me to want to deepen my knowledge and self awareness. In the early 1980's I was introduced to Astrologer Harry Achilleos, a practitioner of Gestalt Therapy.
I undertook Gestalt Therapy sessions with Harry which led to deep intense experiences that opened my eyes to the many layers that exist within the psyche. Furthermore I attended classes at The Siddha Yoga Ashram in Fitzroy to awaken my spirituality and learn meditation.
We have all asked these questions: Who am I? What is my purpose? Why do certain patterns keep happening?
To answer these questions I consulted many Mediums, Clairvoyants, Astrologers, Numerologists, Palm Readers etc. The answers I was given left a void within, perhaps because I wasn't ready to hear the truth or I had more work to do on myself.
To deepen and further my own self development I undertook more studies in Astrology with Glennys Lawton and Brian Clarke at the Chiron Centre in Melbourne.
I had also benefitted from Massage and Reiki and undertook courses in both.
Having gained sufficient knowledge, and wanting to help people, I started my own Astrology, Massage and Reiki business for a short while, but found it wasn't fulfilling.
In 2000 I met my life partner Guido, a very spiritual man, who helped me to believe in my Channeling ability.
Whilst giving him Reiki one day, information that only he was privy to started to pour forth without too much effort and encouraged by him, I began to help friends and family with excellent results.
Feeling this was a new found gift which had benefited others and expanded my awareness, Guido and I continued to channel weekly and receive information and messages which we recorded and transcribed for others to enjoy.
I have been practicing as a Channel/Psychic/Medium for over a decade and have helped many people with messages from the Spirit World.
I believe everyone was born with intuitive abilities, some of us choose to use it and work with it. My hope is to help empower others through channeling so that they can become more able to enlist their own intuition and listen to the messages from their hearts.
I believe my path is to be in service through creativity and inspiration. I hope I will have the pleasure of being of service to you.

Many Blessings Olgaa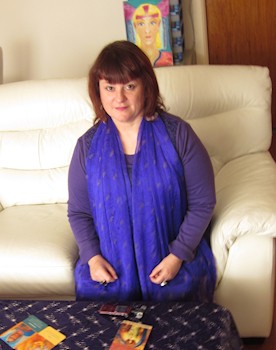 "The message loud and clear is to love thyself and appreciate thyself for more than that which thy do. For nought is more valuable than that which is within thyself, the preciousness of thy soul."

To order a reading with Olgaa visit the Services page.